The Clark County Fire Department Honor Guard was formed in May 1996 by then Firefighter and now retired Deputy Chief, Scott Webster. The original seven member CCFD Honor Guard's first event was the graduation ceremony for recruit academy 96-1.
Since that time, the Honor Guard has participated in more than 800 events, averaging approximately three events per month.
The Honor Guard has performed in front of audiences ranging in size from 12 to 120,000 and has been privileged to participate in events including, CCFD recruit academy graduations, various parades, 9/11 ceremonies, The Nevada Fallen Firefighters Memorial, IAFF Fallen Firefighter Memorial, various emergency service conference openings, retirement ceremonies, recognition ceremonies, and viewing/funeral services for our own and other emergency response agencies (of which we are most honored to be a part of).
All Honor Guard members are part of the CCFD and are IAFF Local 1908 members. Our participation in the Honor Guard is another way for us to serve our community, and keep the proud traditions of the Fire Service visible to our brothers and sisters in the department and the community.
The CCFD Honor Guard is a 501(c)3 nonprofit organization and has been very fortunate to receive outstanding support from the Clark County Firefighters IAFF Local 1908, Clark County Fire Department Fire Administrators, and most importantly the firefighters and members of our great department.
The generous donations we receive support us in obtaining equipment, uniforms and assisting with travel expenses for the various events we participate in.
Currently, the Honor Guard is working to restore an old Fire Engine for use in our events. With your continued support the CCFD Honor Guard will continue to represent Local 1908 and the Clark County Fire Department in a positive and professional manner.
The Honor Guard currently maintains a 29-member roster.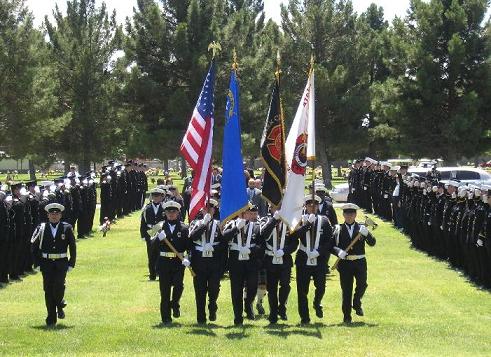 CCFD HONOR GUARD COMMANDERS
Commander:
Chris Cornell
Asst Commanders:
Sean Hokanson
Brian Bintz
Rigoberto Romo
Lenny Bernstein
Treasurer:
Tyler Stacy
Secretary:
Ryan LaFrenais
All appearance requests and correspondence for the CCFD Honor Guard
may be sent to: Chris Cornell
CCFD HONOR GUARD MEMBERS
Jonatan Abrego
Andrew Padilla
Lenny Bernstein
Jesse Perkins
Brian Bintz
Jason Perlmutter
Tyler Burd
Jeremy Richmer
Chris Cornell
Marvin Robinson
Adam Crine
Rigoberto Romo
Aaron Downing
Zach Schaeffer
Victor Higareda
Tim Shaw
Sean Hokanson
John Smith
Eric Klausen
Tyler Stacy
Ryan Lafrenais
Aron Suzuki
Mark Lepino
Ryan Tidwell
Josh Mayes
Matt Turner
Victoria Morache
Craig Vaccaro
Erlantz Muguira
Andrew Villagrana
Nate Nelson